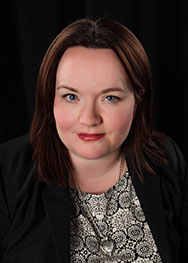 Rebekah Guthrie-Frisby is the founder and owner of Guthrie Law Office, PLLC. Rebekah was born in Tulsa, Oklahoma and has lived her entire life in Oklahoma. Rebekah is a dual citizen of the United States and the Cherokee Nation.
Rebekah graduated from Oklahoma State University in 2003 with a Bachelor of Arts in Political Science. She then went to law school with the goal in mind to help people and make a difference in the community. As a law student, Rebekah enrolled in the Boesche Legal Clinic's Immigrant Rights Project. Knowing very little about immigration at the time, Rebekah was assigned to work with a young man from the nation of Eretria fleeing persecution for his Christian beliefs. At this moment, Rebekah knew that this was her calling to assist the immigrant community.
During law school, Rebekah was awarded the notable Martin H. Belsky Award in Public Interest Law for her commit to public service, diversity, religious respect, and promotion of constitutional values.
After graduating law school and passing the bar in 2008, Rebekah was hired as the inaugural legal fellow at the Boesche Legal Clinic and spent the next three years assisting victims of domestic violence, crime and immigrants fleeing persecution with their immigration matters. During her time at the Clinic, Rebekah was awarded the prestigious Fern Holland award for her dedication to human rights practices. In 2011, she opened her own practice and expanded to cover more immigration matters.
Due to her time at the Clinic, Rebekah has a special appreciation for victims of domestic violence and dedicates a lot of her practice to working on Violence Against Women Act (VAWA) and victims of crimes (U-Visa's). She was recently selected to sit on a national board for immigration attorneys dealing with domestic violence due to her extensive legal experience in dealing with immigration and domestic violence.
Rebekah is a member of the Oklahoma Bar Association and the Tulsa County Bar Association, in which she is the Chair for the Immigration Clinic held each year during Law Week.
Rebekah lives in the Tulsa area with her husband and her daughter.